"The area is beautiful and I would highly recommend to all.
A wonderful stay - only regret was it was time to leave too soon!" - Judy
Breezy Villa
Available Dates
Located only minutes away from popular Sharky's restaurant, the
Venice Fishing Pier
and four blocks from the beach. This single story home is fully updated throughout and features two bedrooms and two baths with a newly tiled floor. Home features a split floor plan with each bedroom separated by the living room with their own private baths. Provided are many amenities to make your vacation relaxing, including beach gear.
Visit beautiful Venice Island. Shop, eat and enjoy the sunny Florida scenery. Venice, Florida is known as the 'Shark's Tooth Capital of the World' and your vacation paradise is only four blocks to a ferry which will take you on a four minute trip to Manasota Key (passes provided) or you are minutes from Caspersen Beach where you can scoop shark's teeth right out of the shallows. Don't worry, these teeth aren't new, they're prehistoric.

On one side of the home is the master suite with double doors that close creating a three-room cozy and private retreat from the rest of the home. The master bedroom features a comfortable queen size bed and a walk-in closet with plenty of room for your clothes. The master bathroom has a tub and shower. The third space is a separate office area with a full length desk. Close the master bedroom door, throw your laptop on the desk and surf with high speed wireless Internet with no worries about disturbing someone sleeping.
Take a walk-through with us of Breezy Villa in Venice, Florida
The second bedroom includes a queen size bed and a roomy closet for all of those new "Shark's Tooth Capital" t-shirts. It also boasts its own bathroom with a shower.
Also offered are two foldable twin beds with very comfy memory foam mattresses.
The living room lets you sit back and relax between all of that hard work of laying on the beach and features a 39" LED HDTV, cable and wireless Internet access (WiFi). Telephone features free unlimited local and national calling in the US.
In the dining room, throw open the French doors and let the breeze pour in as you enjoy a little coffee or tea. The back patio invites you to dine outside while enjoying the Florida sunshine or comfortable afternoon nights under the palm trees. Relax there and watch your kids or pets play in the fenced yard.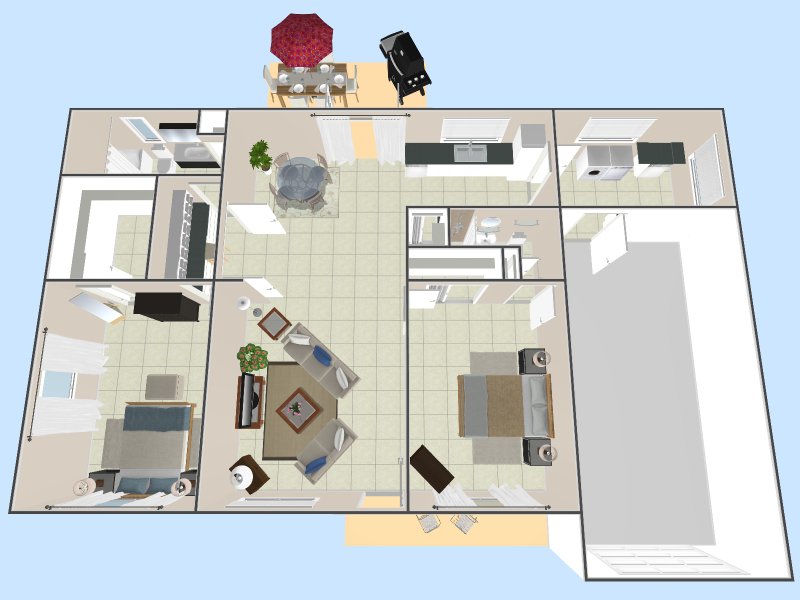 (Click image for large floor plan image)
The kitchen is fully stocked with pots, pans, gadgets and updated appliances - including dishwasher.
Off of the kitchen is a full laundry room with washer and dryer for drying those wet bathing suits, washing those towels you were sitting on at the beach or getting your clothes cleaned of one adventure and ready for the next.
There are ceiling fans throughout as well as central air and heating.
We feature keyless entry and the code you are given to access the house is individualized. There are no keys to pickup or potentially lose during your stay and there are no cleaning people or contractors who will have a key to the house. As the property owners, we respect your privacy and value your security.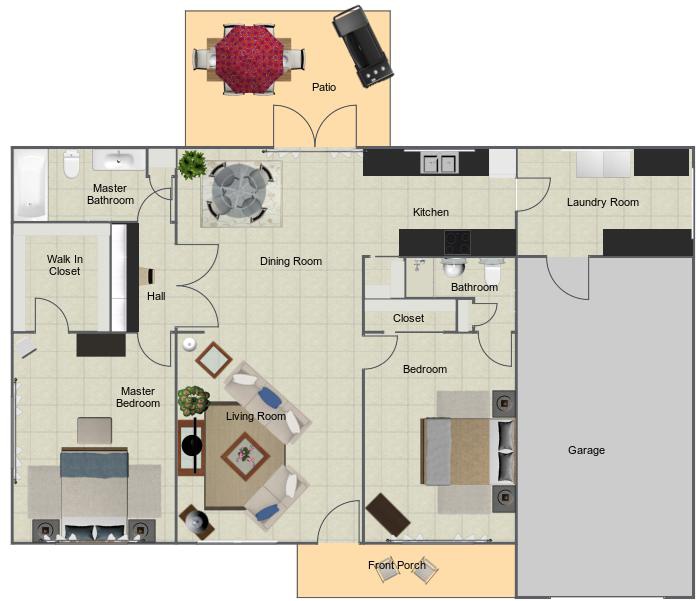 (Click image for large floor plan image)
Venice is a very beautiful and laid back city and you're sure to meet other friendly people biking the Legacy Trail and walking as you take a stroll or walk your dog. The local area has several dog parks and Brohard Paw Park Dog Beach where your pooch can run free.
Here's a little video of the ferry taking you to your private beach
(FREE ferry pass comes with rental).

Nightly and Monthly Rates
(Monthly rates are based on a 28 night stay)
Inquire about executive stays
Details
Size: 1,200 SF
Single Family Home
Max-Occupancy: 6
Bedrooms: 2 (King, Queen, 2 fold out Twins)
Bathrooms: 2 (Tub & shower)
Kitchen: Fully equipped
Air-Conditioning: Yes
Pets: Yes (pet fee applicable)
Washer and Dryer: Yes
Non-Smoking
Low Season: 5 night minimum stay
High Season (Jan - Mar): Month minimum stay
Amenities
Free ferry pass to private beach.
Patio off back complete with grill, umbrella and seating
Free Internet: Wireless Internet
Free Phone: Call Nationally
HDTV: Complete with cable and Blu-ray
Keyless Entry: No keys to pickup, return or lose.
---