"The area is beautiful and I would highly recommend to all.
A wonderful stay - only regret was it was time to leave too soon!" - Judy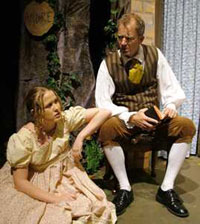 Opened in 1950, the
Venice Theatre
is the third-largest community theatre in the United States and the largest per capita. It is right in downtown Venice, Florida. From
Second Samuel
to
Our Town
to
Sleepy Hollow
and many more, the performances at the theatre are outstanding. The theatre also offers classes for every part of theatre production from acting to sound.
"Saw a production of 'Annie," said Jay of Canada. "A decidedly elderly cast combined with some young talent made for a very enjoyable show with lots of heart." Maryanne of New York agreed, chiming in that the Venice Theatre was a "Nice venue ... costumes, staging, sets and performance were most enjoyable."
Daisy of Ohio took in one of her favorites. "Went to Hello Dolly [and] would highly recommend this when you visit the area."
"A real gem. Within walking distance to shops, boutiques and restaurants," Gerdina from Canada said.