"The area is beautiful and I would highly recommend to all.
A wonderful stay - only regret was it was time to leave too soon!" - Judy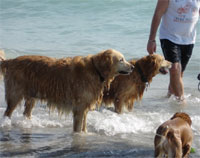 If you are a dog owner or simply a dog lover, the
Brohard Paw Park
is a unique little piece of Venice. Dogs can run along the sandy beaches or take a dip into the ocean. Bring along your shampoo and wash them up before heading home at the doggie washing stations. Don't leave your pet at home while you go to the beach, bring them with you!
"When I researched places to stay in Florida, I read about this Paw Park in Venice and that clinched the decision. From the first time we brought our two Springer Spaniels to the beach they were hooked, and so were we!" Karen R. says.
Edward from Michigan found it amazing. "The dogs were having a blast in and out of the water chasing balls and each other everyone seemed to be having a great time."
You've watched all those movies with the dog owner and their best buddy running along the beach, playing fetch, catching frisbees and enjoying life as the sun sets in the background. Well, there are few places you can do that these days and make it a reality. Brohard is one of them. The best part is that you get to do it in the great Florida sunshine along one of the most pleasant beaches.
"The perfect place for your pup to have fun! Friendly dogs and responsible owners," Kay of Connecticut said.
Rachel of Florida over at Yelp added, "this and the cute shops in Venice are probably are favorite things in Venice. The dog beach is a really great size, and the sand and water is so pretty."
Some video of Brohard Paw Park with dogs surfing and playing in the sand and ocean.