"The area is beautiful and I would highly recommend to all.
A wonderful stay - only regret was it was time to leave too soon!" - Judy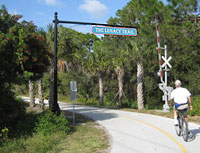 The Legacy Trail
runs twelve miles all the way from Venice to Sarasota. The trail from Venice starts at the Venetian Waterway Park Trail and continues all the way up to Sarasota.
"The Trail is an immaculately maintained asphalt surface," Says Elmo of London, UK. "You will see many different examples of bird and plant life."
Along the way it passes by lovely waterways and includes rest areas with benches and restrooms.
"This trail is great," says Diane of Wisconsin. "Covered with asphalt and wide enough for at least 3 bikes across. We stared in Venice and went North and came back. Rented Bikes right off the trail. Very Convenient."
If you love to bike or take long walks and runs in the beautiful weather this is the place for you!
"I like to run this stretch," says Olivia from New York. "Everyone is out and about exercising and enjoying good company and beautiful weather."
"24 miles of Flat, Traffic Free Cycling," Jay of New York concurs. "If you are looking for a stress-free place for a bike ride, this is it."