"The area is beautiful and I would highly recommend to all.
A wonderful stay - only regret was it was time to leave too soon!" - Judy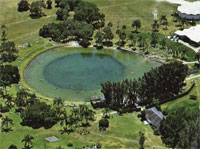 "This is the fountain of youth of Ponce De Leon fame!" says Furrawn of California. The Warm Mineral Springs is located a short drive just east of Venice, Florida and is renown around the world as a healing spring. The waters of the spring stay a consistent warm temperature of 87 degree and the minerals in the water are said to add to health, youth and some claim they cure disease. "What a relaxing place!!!" Nancy from South Carolina said. Lee K of Florida says he visited for the first time "loved it."
As you float around in the buoyant water - or take one of the water yoga or dance classes - beautiful, relaxing music plays in the background. But it's not just about the springs, they also offer other health services, such as spa, massage and acupuncture. 9 million gallons of water flow out of the underground springs everyday that come in from a 230 foot drop in the center.
"I can't seem to stay away from these springs," Charlotte from Connecticut said. "The whole atmosphere is relaxing and the water is warm. Each time I go, I spent 4 - 5 hrs there sitting in the sun, taking a swim and enjoying the excellent food and beer at their cafe."
Watch the video below to get the lowdown on the Warm Mineral Springs from CertifiedHealthNut.