"The area is beautiful and I would highly recommend to all.
A wonderful stay - only regret was it was time to leave too soon!" - Judy
Sandcastle Cottage
Available Dates
Proximity to the Gulf of Mexico brings almost constant breezes to this adorable home. Sandcastle Cottage is a comfortable one story open floor single family home located only minutes away from popular Sharky`s restaurant and the
Venice Fishing Pier
.
It features two bedrooms and two baths with tile floors throughout and a fully fenced backyard.
The kitchen is fully stocked with pots, pans, gadgets and updated appliances – including dishwasher. Also included are basic spices, coffee and sugar to get you started. It features a breakfast bar that seats three and pub table that seats two.

The master bedroom features a comfortable King size bed. The master bathroom has a bath tub and shower. Feel extra pampered after your shower with provided waffle cotton spa robes and slippers.
The guest bedroom includes a Queen size bed and a roomy closet for all of those new "shark's tooth capital" t-shirts. There is a walk-in shower in the guest bathroom making it easy for washing off the beach sand when you get home.
Sit back and relax in the living room between all of that hard work of laying on the beach. It features an HDTV with loads of HD channels, a DVR for recording your favorite shows while you are out and wireless internet access (wifi).
Take a walk-through with us of Sandcastle Cottage in Venice, Florida
Throw open all the windows and enjoy the fresh ocean air. Through the French door Walk out into the screened patio and have a little coffee or tea at the patio table in the mornings. Dine outside while soaking in the Florida sunshine or relaxing in the comfortable nights under the palm trees while being serenaded by tree frogs, birds and crickets.
Next to the kitchen is a full laundry room with washer and dryer for drying those wet bathing suits, washing those towels you were sitting on at the beach or getting your clothes cleaned of one adventure and ready for the next.
Provided are many amenities to make your vacation relaxing, including a grill, beach chairs, beach umbrella, shark's tooth strainer and beach toys - everything you need to make this your home away from home.
Also included is an internet cordless telephone which features free unlimited local and national calling in the US. No need to worry about cell phone charges or signal coverage with your cell phone!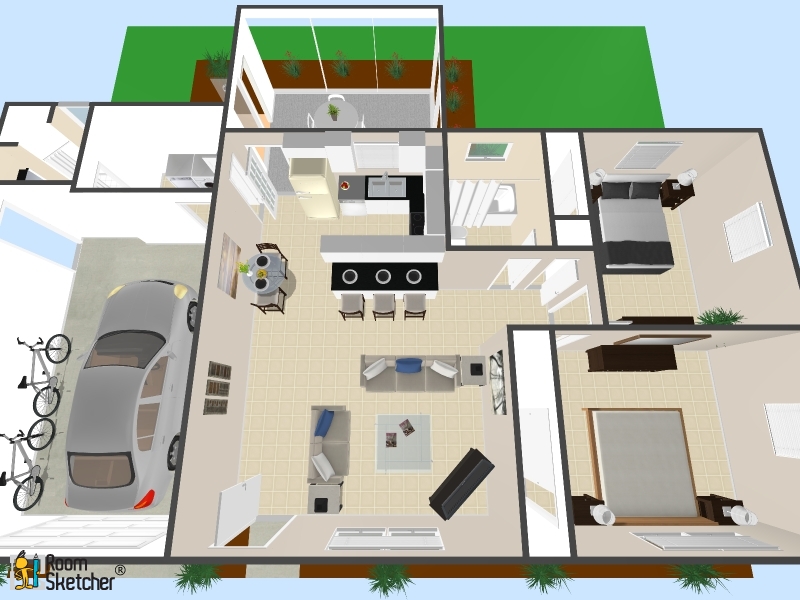 (Click image for large floor plan image)
Visit beautiful Venice Island only 15 minutes north. Shop, eat and enjoy the many wonderful activities only minutes away, including the Venice Rookery where you can see Bald Eagles and other exotic large birds, the Dome Flea Market, the weekly Venice Farmer's Market, Warm Mineral Springs (just re-opened in march 2014) or travel 25 minutes north to Sarasota for the Mote Marine Aquarium or Myakka River Park where you can see alligators in their natural habitat from an air boat.
Venice, Florida is known as the 'shark's tooth capital of the world' and your vacation paradise is near a ferry which will take you on a four minute trip to Manasota Key (passes provided) or you are minutes from Caspersen Beach where you can scoop shark's teeth right out of the shallows.
Sandcastle Cottage has ceiling fans throughout. Also for your convenience is a roomy garage with inside entrance to the house and an automatic garage door opener is provided for your use.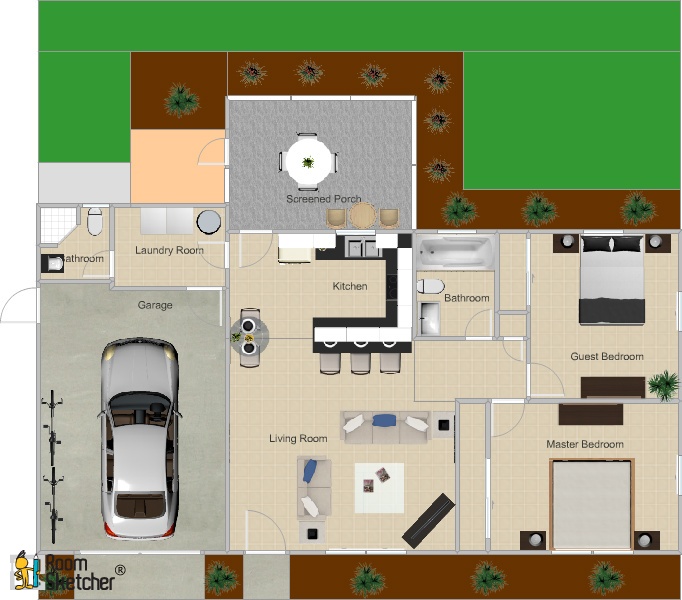 (Click image for large floor plan image)
The back yard is fully fenced so no need to have to walk the dog several times a day - although you probably won't mind strolling around the lovely quiet neighborhood.
One feature which we believe sets our property apart from many others is that we feature keyless entry and the code you are given to access the house is individualized and never the same. There are no cleaning people or contractors who will have a key to the house. As the property owners, we respect your privacy and value your security.
Venice is a very beautiful and laid back city and you're sure to meet other friendly people biking and walking as you take a stroll or walk your dog. The local area has several dog parks and dog beaches where your pooch can run free.
Here's a little video of the ferry taking you to your private beach
(FREE ferry pass comes with rental).

Nightly and Monthly Rates
(Monthly rates are based on a 28 night stay)
Inquire about executive stays
Details
Size: 920 SF
Single Family Home
Max-Occupancy: 4
Bedrooms: 2 (King, Queen)
Bathrooms: 2 (Tub & shower)
Kitchen: Fully equipped
Air-Conditioning: Yes
Pets: Yes (pet fee applicable)
Washer and Dryer: Yes
Non-Smoking
Low Season: 5 night minimum stay
High Season (Jan - Mar): Month minimum stay
Amenities
Free ferry pass to private beach.
Screened lanai patio off back complete with grill and seating
Free Internet: Wireless Internet
Free Phone: Call Nationally
HDTV: Complete with cable and Blu-ray
Keyless Entry: No keys to pickup, return or lose.
---